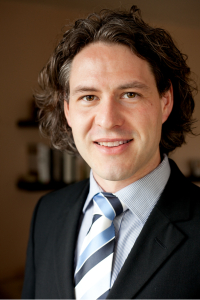 Dr. Michael W. Tangermann (né Schröder)
Junior Research Group Leader

University fo Freiburg
Dept. Computer Science
Alberstr. 23, Room 0.003
Germany
Phone: (+49) 0761.203.8423
Email: michael.tangermann(AT)blbt.uni-freiburg.de

Short Vita
Under my birth name Michael Schröder I received a diploma (~M.Sc.) in computer science (minor subject biology) from the University of Tübingen in 2000. During my studies, I was scholar of the
German National Academic Foundation
. From 2000 to 2005, I was a research assistant and Ph.D. student in the Computer Engineering group headed by
Prof. Rosenstiel
and the group of
Prof. Birbaumer
(Institute of Medical Psychology and Behavioral Neurobiology) at the
University of Tübingen
, Germany. During this time, I collaborated tightly with the group of
Prof. Schölkopf
(Max Planck Institute for Biological Cybernetics,
Dept. Empirical Inference
for machine learning and perception). In October 2005, I have joined the Intelligent Data Analysis Group headed by
Prof. Klaus-Robert Müller
at the
Fraunhofer Institute FIRST
in Berlin, Germany. In February 2007, I married and changed my family name to Tangermann. In spring 2007, I moved to the Technical University of Berlin branch of the IDA Group, where I worked as a PostDoc in
BCI research
. In summer 2007 I received my doctorate with a dissertation about feature selection for BCI from the University of Tübingen. From 2008 to 2013, I headed a research group with 3 PhD students and several Master- and Bachelor students, financed by the European integrated project TOBI. Starting with July 2013, I joined the
University of Freiburg
(Germany) as a Junior Research Group Leader within the cluster of excellence
BrainLinks-BrainTools
.
I am married - my wife and I raise three cute daughters (5, 6 and 8 years old), which I enjoy spending my free time with. Furthermore I like singing in a
choir
and and riding my mountain bike through the black forrest hills.
Current Main Research Interests
performance prediction of BCI usage
BCI in the context of stroke rehabilitation

adaptive neural signal processing to cope with non-stationarity effects

novel auditory brain-computer interfaces (BCI) paradigms that exploit spatial hearing
BCI for patients and healthy users
automatic artifact classification of the electroencephalogram (EEG) and related brain signals
applications for BCI: BCI-based gaming, media interaction and entertainment
machine learning for mental state monitoring
Former Research Interests
kernel methods for feature extraction and feature selection
machine learning for children's online training system (game) to reduce rolandic spikes in the EEG
machine learning on production line data for yield maximation (e.g. for semiconductor fabs)
control methods for invasive functional electrical (axonal) stimulation (FES) of the upper limb
The list of current
projects
and past projects that I have been working on and might be a good place to learn more about my research interests.
Service to the community
Teaching and education activities
Besides my
teaching activities
, I constantly supervise a number of diploma-, master- and bachelor theses projects, student research assistants and students working on small projects in our lab.
Reviewer activities for funding agencies, journals and conferences
Nature Methods
Frontiers Neuroscience
Frontiers Neurorehabilitation
Clinical Neurophysiology
Journal of Neuroscience Methods
Journal of Neural Engineering (JNE)
International Journal of Pattern Recognition and Artificial Intelligence (IJPRAI)
Neural Networks
Experimental Brain Research
IEEE Transactions on Biomedical Engineering (TBME)
IEEE Rehabilitation Engineering
Transactions on Neural Systems & Rehabilitation Engineering
EMBS
MIT Press
EURASIP Journal of Applied Signal Processing
SIGCHI
Int. BCI Workshop and Training Course Graz
BBCI Workshop Berlin
TOBI Workshop 1 and 2
Technologiestichting STW (Dutch)
Dissemination activities
Presentation of BCI research topics on various conferences
Live demos of BCI-controlled applications in press events (pinball game 2010, chess 2012)

Presentation of live BCI demos at the international ICT fair Brussels (Photobrowser) and during the "Tag der Mathematik" in Berlin (BCI controlled chess)
Presentation of live BCI demos at the CeBit international computer fair (mental typewriter 2006, pinball game 2010)
BCI public live demo in national TV show (Große Show der Naturwunder)
Several BCI demos for scientific TV shows (e.g. Galileo)
BCI demos for patient TV programme ("Selbstbestimmt", WDR, 3-Sat)
Competitions
Committee work, workshop organization
Organization of Workshop "Auditory BCI", May 31- June 4, 2013, Fifth International BCI Meeting
Asilomar, California, USA
Organization of Workshop "Other Uses of BCI technology", May 31- June 4 2010, Fourth International Meeting
Asilomar, California, USA
Future BNCI roadmap committee member 2010
Program committee member of the TOBI workshop 2010 in Graz and 2010 in Rome
Poster chair of the BBCI workshop 2009 and 2012 in Berlin